Now that this version of the draft plans are in the public domain, we wished to provide a brief explainer on what's proposed, as well as give our own thoughts on councils suggestions.
This is still a draft and subject to change under consultation, so if what you feel your street needs is not here, let the council know! There is still scope for change and improvement.
The file is very large, so it is best to view it in PDF format at the link below (it will take a minute to load), or read on to see the smaller screenshots of the plan we've provided.
Our overall thoughts
This draft plan focuses too much on costly traffic calming, which does nothing to reduce pollution and reduce car journeys, and does less to improve road safety than filtering. We need a low traffic neighbourhood, not just a slow traffic neighbourhood
We have already seen increasing support at consultation for the "no through traffic" zones on Buckhurst road/Victoria road/Osborne road and Mayford road/Randolph street/Caremine avenue. Notice how these areas don't require costly speed tables or humps as traffic issues have been solved by filters. Why is the council not planning on more filtering to replicate these succeses elsewhere?
Whilst we welcome many of the more ambitious measures, such as cyclops junctions, cycle lanes, continuous footways and multi-modal crossings, it is still not clear how the arrangement of these measures allows for joined up active travel routes across Levenshulme and Burnage. More must be done to join up routes for pedestrians and cyclists, particularly in Burnage
Click on the contents here to jump to the relevant section.
Summary by area
There are a few interventions applied to the whole area. A 20mph speed limit is being implemented on any non-A road that doesn't currently have one.
All filters in trial phase 1 have been included as permanent in these plans as per an earlier statement by MCC, with two filters having their location moved slightly.
A6/Broom/Cromwell Triangle
Broom Lane
In these plans Broom Lane is due to get a second puffin (button) crossing just south of Chapel Street. The other puffin crossing, north of Marley road, already exists.
Where Broom lane meets Marley road and Crayfield road, raised continuous footways are suggested.
A flat-top hump/crossing point is suggested for the south end of Broom lane, however, it is worth noting there is currently no pavement on the west side of the street here.
Another flat top hump/crossing point has been suggested for halfway between the Chapel street junction and the Carnegie avenue junction.
Speed tables have been suggested for Carnegie avenue junction, Chapel street junction, Cranage road junction, Pullman close/Bristol avenue junction, Broom avenue junction (although this may be a mislabelled continuous footway), and Watts street junction.
Chapel street
Two flat top hump/crossing points are suggested just east of Cardus street junction and just west of Rostron street junction.
An extra chicane has been suggested at the western edge of Chapel Street Primary School grounds.
A large speed table has been suggested for between the Ratcliffe street junctions and Delamere road junction, replacing the speed cushions currently there.
Crayfield road
Crayfield road has a suggested speed table at Gordon avenue junction, with a suggested continuous footway at Broom lane junction.
Cromwell grove
Cromwell grove has 3 suggested speed tables, at Cardus street, Mercer street and Wetherall street junctions
Marley Road
Marley road is suggested to have continuous footways at A6/Broom and Samuel street junctions, with a suggested speed table on Kersh avenue junction.
Thoughts
Speed tables are expensive (minimum £6000 per table) and will require maintenance if large numbers of vehicles, including HGVs, are still using these roads, the filtering of Crayfield and Marley road would negate the need for speed tables on these two roads, and increase safety whilst reducing maintenance costs to new continuous footways.
If Chapel street were filtered as in our original suggestions, this would save money on the costly traffic calming there that could be spent on significant pavement improvements/build-outs on Broom lane and Cromwell grove, or a crossing for Cromwell grove, which currently has none.
Tweak: the speed table at the Broom avenue junction with broom lane should be a continuous footway, to prioiritise pedestrians
West of the A6
Only a few extra interventions in the complete "no through traffic" zone west of the A6. Filtering has solved most traffic issues negating the need for speed tables or humps.
A cyclops junction is suggested for the Albert road/Slade lane junction, which currently has no pedestrian button. This allows for safer turning and crossing for pedestrians and cyclists.
A shared cycle lane is suggested for outside of Arcadia, linking the Crescent to the suggested toucan crossing, via a raised continuous footway.
Park Lane and the Crescent underpasses are both getting "improved lighting" (no further detail provided).
Thoughts
Consider extending cyclops junction lane to Osborne road filter, this could allow for a journey from the Grange school, all the way to Burnage, using only "no through traffic" zones, crossings and segregated cycle infrasturcture. This could in the future be extended towards the fallowfield loop (see Burnage)
Ensure the Crescent pavement parking issues are fixed to make journeys to A6 cycle lane/toucan easier, this will be a common journey if these suggested measures are implemented
Ensure once toucan crossed west to east there is an onward link to Ballerat street, as currently cyclists would need to use A6 without segregation once crossing toucan
Burnage
Milwain road and Linden park have suggested filters just west of the pedestrian footpath between the two.
Erwood road
There is a suggested puffin crossing outside of alma park school.
There is a suggested parallel zebra crossing at the south exit of Levenshulme high school and Manchester Martial Arts Academy
There are chicanes suggested from South of Clare road junction to south of Crossley road junction.
Grangethorpe Drive
There is a cyclops junction suggested for Grangethorpe drive/Burnage lane/Crossley road junction.
There is a puffin crossing suggested for halfway between Brecon drive and Burnage lane junctions.
There is a continuous footway suggested for across Lynton drive and Burnside drive junctions.
A speed table is suggested for between Hoscar drive and Orville drive junctions.
Thoughts
We are glad to finally see measures for Burnage, but there are large sections with no measures to reduce amount of traffic. More filtering on similar level to Levenshulme would be neede north of grangethorpe drive and south of alma park school to help active travel journeys across the area
Tweak: the exit of Milwain road is very close to the start of Erwood road's historic cycle lanes, could a crossing and cycle lane extension not be made here to enable segregated onward cycle journeys through the new filtered zone? an upgrade of these historic cycle lanes should also be considered
There is a lack of action on the key school run route through marshall road and forest range, a potential crossing from Buckhurst road and filtering would induce a large number of active travel journeys and encourage people to walk and cycle to Alma park school, rather than use their car.
Slade lane is a key route through burnage, and now has 2 cyclops junctions, as well schools and access to the flop, this should be high priority for a segregated cycle lane similar to Matthews lane to link all of this infrastructure together.
North of Matthews lane
A 2-way cycleway is suggested on the north side of Matthews lane between Prestage street and Grange school, although currently seems to stop slightly before the toucan crossing across to Manchester cycleway. This cycleway includes 2 bus stop bypasses, that prevent conflict between cyclists and buses.
A parallel zebra crossing is suggested east of Newdale road
A continuous footway is suggested across the entrance to Grange school on Matthews lane.
Speed tables are suggested at Stovell avenue/Agnes street, Seddon street/Brook avenue, Prestage street/St Oswald's road, Hornbeam road, and Audley road junctions.
Thoughts
It's great to link North of Matthews lane to the Grange school and Gorton primary school with a cycle lane, and the toucan crossing will allow onward travel to Melland high school and Cedar Mount Academy via the current westward cycleway on the other side of Mount road
Tweak: Consider moving suggested parallel zebra to St Oswalds road, to link 2-way cycleway up with "no through traffic" zone
again consider filtering North of Matthews lane as per our suggestions to create a "no through traffic" zone and easier active travel access to 2-way cycleway and parallel zebra crossing.
South of matthews lane
Manor road filter has been moved to east of Rushmere avenue, the reason given by council is "flytipping" but we know this is not the case, as flytipping occurred prior to filter placement.
Thoughts
Whilst the new Manor road filter location did need a filter, it shouldn't come at the cost of filtering the east end of manor, and risks recreating the "drag strip" between the parks that exited before and made people feel unsafe to cross. An additional filter at manor road/mount road junction would solve this problem, and has more "eyes on the street" than previous filter location in the middle of Manor road
West of A6 south
Henderson street filter set to be moved slightly due to a "parking issue". The "no through traffic" zone created remains the same.
Glossary of interventions
Cyclops junctions
A cyclops is a new type of junction that started in Greater Manchester, the idea is that fully segregates pedestrians, cyclists and cars, preventing conflict regardless of direction of travel. They are the gold standard for active travel junction infrastructure and are safer for all involved.
For an example of how to ride through a cyclops, see this video.
We welcome the addition of these to the scheme plans. Whilst they are not currently linked to segregated cycle lanes, the cycle lane of the cyclops itself could be extended further beyond the junction.
Filters (permanent)
Now that the draft plans are for the final scheme, we should consider what "permanent" filtering looks like, as opposed to the "temporary" filtering of the planters.
Permanent filtering can be as simple as a kerb and some bollards, but with the extra funding we would hope to see the inclusion of tree planting and street furniture enabling active travel, such as benches or low walls to sit on.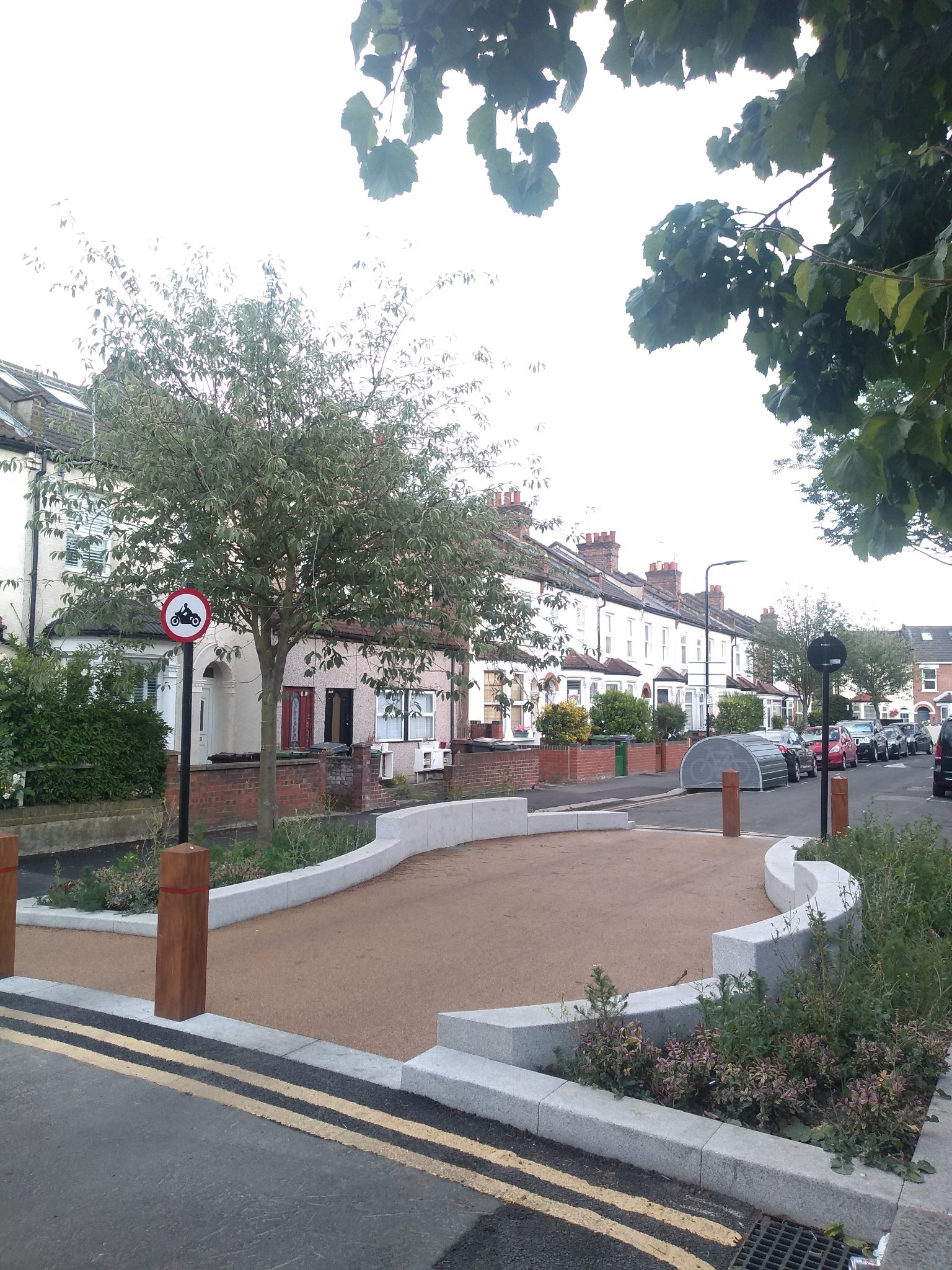 Cycle lanes
Fairly straightforward, a segregated cycleway. The minimum width should be 1.5m for one-way or 3m for two-way to allow for use by adapted cycles. There should be a raised kerb and bollards to prevent cars parking on it.
Bus stop bypass
A bus stop bypass allows the continuation of cycle travel without disrupting the stopping of buses, and also gives a zebra crossing for pedestrian priority across the cycle lane.

Puffin crossing
A puffin crossing is a type of pedestrian crossing that allows you to press a button to change the vehicle light to red and cross. Sensors atop the lights hold the "green man" on until you have crossed the road.

Parallel zebra crossing
A parallel zebra crossing allows pedestrians and cyclists priority over vehicles, helping active travelers continue their journeys without waiting for a signal or break in traffic.

Toucan crossing
A toucan crossing is a button-controlled crossing for pedestrians and cyclists, the name comes from "two-can use". These are useful when placed at main roads that interrupt pedestrian AND cycling routes. The one suggested at Matthew's lane/Mount road is a good example.
Speed table
Speed table is a traffic calming intervention aimed at reducing vehicle speed, it is a raised section of road with ramps on both sides. The dropped kerbs should be marked with double yellow lines as in the image.
One estimate puts the cost of a speed table at £6000 to £7000 for a small one, and £15,000 to £20,000 for a larger one (as in image above). There are 18 or 19 speed tables in the current draft suggestions, depending on whether Broom Avenue is a mistake.

Flat top hump/Crossing points
Flat top hump/crossing points are traffic calming measures that can also double as informal crossing points, as there is no need for a dropped kerb due to the hump raising the road to the level of the footway.
Where possible, humps and speed tables should be made sinusoidal (see image below), as this is easier to cycle over.

Raised continuous footway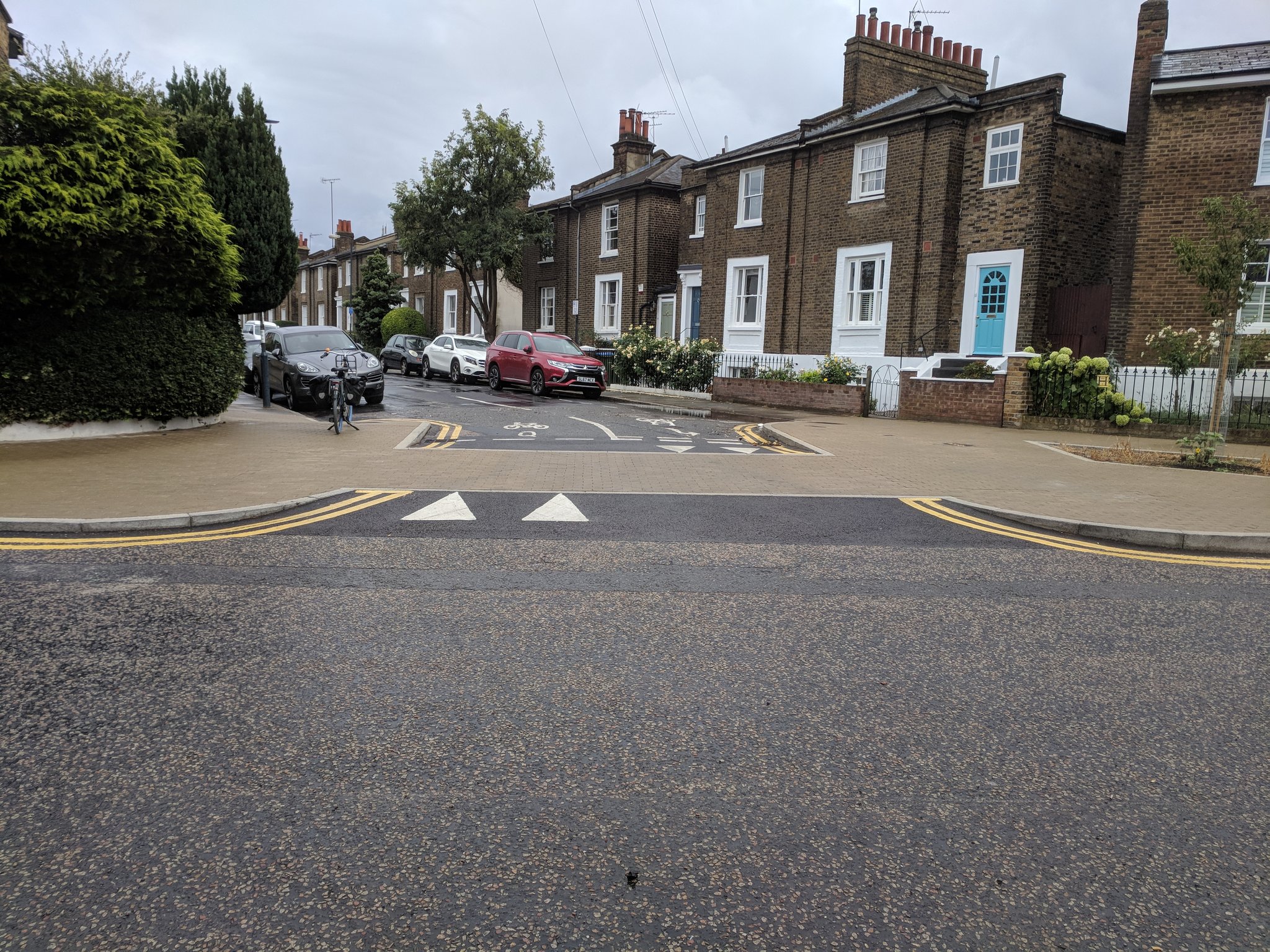 An uninterrupted footway across a side road, enabling easier onward travel and reducing vehicle speed/making them more aware of pedestrians.

Light improvement
We are unsure based on the map what shape the light improvements will take, but we hope enough light will be provided to make any user feel safe as they cross under the railway bridges.

Chicanes
Single lane chicanes require one direction of traffic to give way to oncoming vehicles. The chicane normally consists of a raised curb and bollard in one half of the road.
Chicanes in an active neighbourhood should allow for a cycle bypass as seen above, and this bypass should be at least 1.5m to allow all types of cycle through.