Phase 2 Plans: Explainer
The council is running a consultation on these measures until 28th January, and whilst there are detailed plans, they haven't explained why they are being done, or what advantages they give in terms of pedestrian and cyclist journeys.
Here we take you through each specific section of the council's consultation plans , with our thoughts on what's good, what needs to be tweaked, and what's missing.
This is a live page, and will be updated with more detailed suggestions as we get more feedback from our members and followers, so be sure to check back regularly!
Click links below to skip to specific sections (in the order given on the Council's consultation):
Menu:
Our overall thoughts
Join the dots – We need connected active travel routes
We welcome many of the more ambitious measures, such as cyclops junctions, cycle lanes, continuous footways and multi-modal crossings. These are often dealing with the most dangerous sections and routes, will make them alot safer and more possible than before.
However in some places its still not clear how the arrangement of these measures allows for joined up active travel routes, particularly in Burnage, which will have no new cycle lanes and only two filtered streets.
We have suggested where changes could be made to better connect up current filtered streets and the proposed routes.
We need a low traffic neighbourhood, not just a slow traffic neighbourhood
Whilst decreasing vehicle speed is important, and increases the safety of all those travelling through the area, it does nothing to address vehicle pollution
Evidence shows reducing the number of vehicles journeys in an area increases pedestrian and cyclist safety more than just traffic calming
Alot of the traffic calming included in the plan is speed tables, which are costly to install and, if traffic levels still high, degrade over time and need costly maintenance.
We suggest the council considers more filtering measures to reduce the

number

of cars using and polluting these routes, not just their speed
We support the active neighbourhood, but it can go even further…
With everything said above, we recognize this is a huge opportunity to improve ALL streets in Levenshulme and Burnage
This is why we've outlined issues below in the order they are in the consultation form
We've looked at what's good, what needs tweaked, and what is missing
We want to help the scheme keep what it has so far, improve what is being suggested, and go even further to helping improve active travel, road safety and reduce pollution in the area
Specific sections
Matthews Lane
What's Good
Footway improvements across side roads and alleyways make walking more pleasant and remove trip hazards
Links North of Matthews lane to Grange School and Mount Road with a cycle lane, which is fully protected from Prestage Street to Mount Road
Bus stop bypasses to avoid conflict between buses and cyclists or cyclists and pedestrians
The relocated and upgraded toucan crossing links to Melland High School and Cedar Mount Academy via the shared use path on the other side of Mount Road
What needs tweaking
Consider moving suggested parallel zebra to St Oswald's Road, to link two-way cycleway up with the "no through traffic" zone (provided by the filters at Mayford, Randolph and Caremine)
Segregated cycle lanes are preferable to shared footways, as less conflict between pedestrians and cyclists, it is unclear from designs why this lane could not be continued right up to the toucan crossing at Mount road junction
What is missing?
A quiet cycling route up Hemmons Road is being proposed, but the plan hasn't fully filtered the area north of Matthews Lane, which would make a route to or from Northmoor Road area much more attractive for cycling
Broom Lane
What's Good
Genuine reclamation of streetspace for pedestrians with building of pavement down to A6 junction; and providing 'raised table' crossing points at side roads making walking more pleasant
A new crossing further up Broom Lane is much welcomed, as is the upgrading of the current pelican crossing to a puffin crossing, which senses pedestrians to allow those who walk slower to cross safely on the green man
Reducing number of lanes and pavement width makes for fewer cars queuing and reduced emissions in the long run through making the route less desirable for motorised through traffic
Use of flat top humps instead of speed cushions. Speed cushions have been ineffective at slowing down cars, Flat top humps can be used as informal crossing points
What needs tweaking
Ensure areas around speed tables have double yellows to allow easy crossing and lines of sight
The alternative puffin crossing location above the Fallowfield Loop is preferable to the current location, as it allows for easy school access and easy crossing for anyone walking to/from Crayfield Road
New pavement must be fully protected by bollards, otherwise this will just add more space for car parking, not pedestrians
What is missing?
Broom Avenue should still be considered for a school street, as cars driving in and out on the school run is a major cause of congestion in the area, and a safety concern for anyone walking or cycling to school
A6 Arcadia Crossing
What's Good
A signalised toucan crossing at this location is welcome, providing safer walking and cycling access to Arcadia
Lighting improvements mean its possible to cycle/walk on a connected route from Slade Lane/Osborne Road junction all the way onto Barlow Road near other filtered section.
The bollards proposed at the north-side of the Barlow/A6 junction are very welcome as this is a hot spot for fully-on-pavement parking
The footway buildout on the west side just south of Yew Tree Ave is welcome, the provision of parking/loading here is unnecessary due to the Arcadia's off-street parking and the removal of this on-street parking/loading will improve sight lines for people walking and cycling
What needs tweaking
The "quiet cycleway" signed down Yew Tree road doesn't lead anywhere, was this was meant for "The Crescent"? As this will now be a route through to Central Avenue "no through traffic" zone.
Balleratt Street may offer a better onward journey than Barlow Road if no additional measures for Barlow Road are happening, this would require a reclamation of parking on A6, but a much smoother transition into low traffic area
The proposed crossing design has some flaws:

how is someone walking/cycling westbound on Barlow Road supposed to access the toucan?
The current junction of Barlow / A6 is very wide, and the slight buildout proposed is not sufficient to make this an easy crossing
The junction also suffers from illegal parking/loading and more bollards are needed on the south-side of Barlow Road to keep the informal pedestrian crossing clear

The tactiles for Barlow Road crossing are not on the desire line
What is missing?
The northbound lane of the A6 seems particularly wide just north of Levenshulme Terrace, narrowing the carriageway could provide more shared space for walking and cycling and also make it more pleasant to cross the road at the toucan as a shorter distance will be easier for those who walk slower to cross in the time permitted.
Barlow Road is being signalled as the "onward route" to Manor Road filters, but often has cars parked either side (blocking footways) and is not filtered, Barlow Road is currently not receiving a single traffic calming measure in these plans despite recent serious incidents and large support for the scheme as a whole on this street
Segregated cycle infrastructure, as is outlined in LTN 1/20 shared footways can increase pedestrian/cyclist conflict, when reclaiming parking spots/streetspace from cars benefits both modes. Segregated cycle ways could also be easily linked into future longer cycling infrastructure on the A6
Lighting improvements for Park Grove not enough, as it also needs work to fix flooding issue to be a useable route
St Oswald's Rd-Mayford Rd-Caremine Ave
What's Good?
As this area is already fully filtered, there's relatively few extra measures needed
The continuous raised footway is good as it links Mayford Road to Caremine Avenue filter without trip hazards
What needs tweaking?
Caremine Avenue filter often gets blocked by parked cars, so clear parking prohibition around the final filter designs is key
What is missing?
Permanent filter designs are needed so residents can see final look of area
The Crescent
What's Good
The raised footway at Yew Tree Avenue is welcome to enable continuous pedestrian movement as priority
What needs tweaking
Park grove lighting and flooding issues more pronounced than the Crescent, but the Crescent presents the more direct route to new toucan crossing, council should consider these factors when proiritising which tunnel to improve first
There are often many vehicles near the junction of Stockport Road and The Crescent making it less safe for people walking and cycling due to reduced visibility
The proposal that people cycling should turn right just before the junction to access the new shared cycle track on the westbound footway is dangerous

A one-way system should be made running counter-clockwise Eltham St. Leabank St. The Crescent (with a contraflow cycle lane). This would eliminate conflict where people cycling are expecting to turn right potentially in front of vehicles turning in from Stockport Road – sight lines at this junction are poor.
The cross-section A-A shows pedestrians and a cyclist sharing space with a tree in the '3.5m min' footway – tree pits are NOT usable space and should not be included when determining the width of the cycle track, and neither should the cycle track dodge around trees like a slalom course. Removing the parking/loading will also improve sight-lines for people attempting to join or cross the A6.
What is missing?
The Crescent suffers from pavement parking and the council has previously installed bollards to prevent this on one side of the road, resulting in an even narrower footway; and the lack of dropped kerbs (plus the lack of bollards on an old driveway) means that despite the cost of installing the bollards the footway is unsuitable for pedestrians who require level access. Bollards should be moved out to edge of an extended footway.
Chapel St
What's Good
Flat top humps are better than speed cushions, as they cover the whole width of the road so that drivers cannot avoid them, and they are better for cycling especially non-standard cycles or with children. However, flat top humps should be "sinusoidal" which is more comfortable to cycle over.
What needs tweaking
The chicane type being used can create pinch points for cyclists where motorists may overtake, consider how to avoid this conflict
What is missing?
The gold standard and most cost effective option for reducing through traffic and increasing pedestrian/cyclist safety on Chapel street will always be filtering. (One filter between Lostock and Lincoln avenue would solve through traffic issues and provide two vehicle turning circles.) We hope to see this in a permanent form, or as a timed school street in the meantime.
Alma Park
What's Good
Proposed puffin crossing gives pedestrians priority to stop traffic, but must ensure lights change immediately after pressing to avoid long waits that may lead to new desire lines on low visibility bend
What needs tweaking
People drive at unsafe speeds down Alma park outside of school run times (when it's too busy to speed); the sight lines are poor because of the s-bends and the trees and there is a risk drivers will approach the crossing at too high a speed to stop without more measures closer to crossing
Unclear why centre line markings are needed as these often increase vehicle speeds
A full-width of the road sinusoidal hump should be implemented instead of these speed cushions.
Traffic calming measures should be moved closer to the crossing so drivers cannot build up speed again before reaching lights
What is missing?
Road cushions should not be renewed and instead shoudl be replaced with full length of road sinusoidal humps – cushions make people cycling need to pick either:

the gutter (full of slip hazards and places you in a poor road position afterward if the driver behind you cuts in on you because of oncoming traffic)
or the middle of the road (which poses a risk due to drivers encroaching on centre of lane on bend) and are bad for inclusive cycling at the best of times.
If cycling with children (likely due to school locations) it is even worse as you need to direct the child one way and yourself another.
These particular cushions are even worse because they are positioned on a curve and so can seriously affect cyclist balance which is very dangerous especially given traffic volumes here and that this is a bus route.
Errwood Road
What's Good
The parallel zebra crossing allows pedestrians and cyclists to cross with priority, and the chicane on either side before it means vehicles will approach slower.
The relocated bus stop better serves Levenshulme High School for Girls
What needs tweaking
Add a signed quietway down Crompton Road to connect to Milwain Road/Linden Park filtered area (see Balleratt Street and Randolph street for example)
What is missing?
A designated cycle track, on the west side of Errwood Road, is marked on the left-hand image but disappears on the right-hand image, there are still two parallel pavements over Crompton and Ranford where the historic cycle lane continues and this is a key connection to new filters so these should be shown
No link is proposed to join up the cycle route alongside Errwood Park / Cringle Fields and the Fallowfield Loop, which TfGM and MCC are also busy improving. Join up these two critical pieces of traffic-free infrastructure to meet with the concept of the bee network – that its connected infrasturcture that enables cycling
Work on upkeep of the historic cycleway as it continues into Burnage to help with onward travel, it currently is often filled with parked cars! (see B5158 in Urmston for bollard example, but we could go beyond this!)
Crayfield Road and Marley Road
What's Good
Continuous footways allow better and safer pedestrian travel and prioritise pedestrians
What needs tweaking
Raised table on Crayfield Road should join up with the Fallowfield Loop entrance, ending just before the entrance causes issue for cyclists Joining or leaving the loop. The active neighbourhood and Fallowfield Loop improvement projects' design should be considered in conjunction with each other at this point, to create the most welcoming and safe connection between the two as possible
What is missing?
There should be a continuous footway where crayfield Road Joins the A6, same as Broom Lane side, this has already been prposed for Cromwell grove/A6 junction
With the potential increased chance of drivers trying to avoid new measures on Broom Lane, we want to see more done on these two roads. Especially when they're both connecting A6/Broom
Filtering is still the gold standard here to increase road safety. We predict speed calming alone will not decrease traffic volume and lead to more noise and pollution from quick acceleration/deceleration. However, speed tables will likely result in some overall reduction of vehicle speed
Cromwell Grove
What's Good
Where Cromwell meets A6 is often an area of conflict, and a clear raised continuous footway here will signal pedestrian priority and enable easier continuous walking along the A6
Same goes for other continuous footways at Dunstable, Rostron and Ratcliffe
What needs tweaking
It's unclear from the plans, but the continuous footways should be the same material as the footpath on the A6 and Cromwell to signal to pedestrians they have the right of way [example]
Ensure speed tables being placed are sinusoidal shape, as these are the safest to mount for cyclists
What is missing?
Cromwell suffers from poor pavement parking, making walking difficult, measures should be considered to prevent this, as it would also serve to slow down traffic if the road was narrowed by parked cars
Councillors should be aware of people using Dunstable Street as a cuthrough to Barlow road, seeing as neither street has been given traffic calming measures or filters: A filter on Dunstable Street would solve this problem and make a quiet cycling/walking route
Grangethorpe Drive
What's Good
Raised continuous footways clearly prioritize pedestrian movement, and when done well can slow traffic, reduce trip hazards and make walking journeys much more pleasant and direct
Flat top humps are good if the whole length of the road as can be used as informal crossing points in times of less traffic
What needs tweaking
Tweaks will be added as we talk to more residents
What is missing?
More footway buildouts, between pavement parking and trees it can be quite difficult to walk along Grangethorpe drive, and the continuous footways would need to continue up towards the cyclops junction
Consideration for a cycle route down Grangethorpe or a filtered route on adjacent streets, to allow safe east-west cycle travel through Burnage
Linden Park and Milwain Road
What's Good
Filters are a proven success for making quiet routes and places in Levenshulme, as evidenced by the effect on road such as Buckhurst Road, so it's good to see new quiet streets being made into quiet walking and cycling routes in Burnage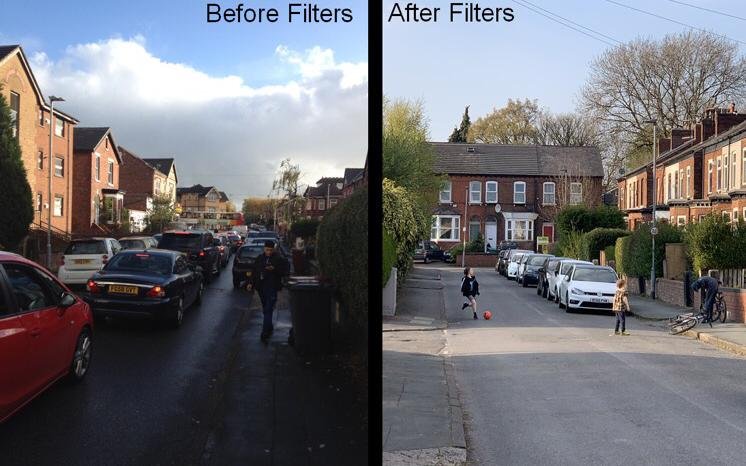 Milwain Road filter location allows for an easy turning circle on Kempton Road and Hilbre Road specifically
What needs tweaking
The junctions at Slade Lane end of Milwain Road and Linden Park are very wide, and difficult for pedestrians to cross, consider narrowing this (to a more similar width to Erwood Road junctions) or even adding continuous footways
Similarly, the Errwood road junction on Linden park is very close to the floop, and there is no pedestrian OR cycling link here, could a parallel zebra be considered?
What is missing?
Consider making crossing by Linden Park/Slade lane junction a toucan, and allowing onward cycling, as the Fallowfield Loop entrance is almost immediately on the other side of the road
Moseley Road-Slade Lane
What's Good
A cyclops is a new type of junction that started in Greater Manchester, the idea is that fully segregates pedestrians, cyclists and cars, preventing conflict regardless of direction of travel. They are the gold standard for active travel junction infrastructure and are safer for all involved.
This is an ideal cyclops junction location, as it has been the site of recent serious injuries due to trying to cross, and currently has no signalised crossing at all
What needs tweaking
Extend the northern cycle arm of the cyclops up to the Osborne road filter (just off the top of this image) to create a fully joined up quiet cycle route
What is missing?
Make a segregated cycle lane from the southern arm of the cyclops junction to the fallowfield loop, to maximise the segregated cycle route safety
As more drivers may seek to avoid the cyclops junction, the originally planned filter at the corner of Monica grove and Fortuna grove should be added, it is strongly wanted by residents and analysis showed over 50% of traffic on these side streets was through traffic prior to the trial
Burnage Lane-Grangethorpe Drive-Crossley Road
What's Good
The protected cycling and pedestrian signaled junction (Cyclops) is desperately needed here, as there currently is not even a button on the lights at these junctions, this will make it much safer for pedestrians and cylclists, even if not every direction is ctaered for for cyclists.
It's nice to see the council pushing for a small pocket park, we hope this will include ample seating as a rest place for pedestrians
What needs tweaking
Add an advanced stop line for cyclists on the north side of Burnage Lane, if a segregated option is not possible this still gives cyclists a bit more safety through addition space in front of vehicles.
What is missing?
There is one direction where the most dangerous turn (right turn across oncoming traffic) is not protected for cyclists. Can the council clarify how to turn right onto Grangethorpe Drive from Burnage Lane?
Randolph Street-Balleratt Street
What's Good
Continuous footways and a clearly signed new quiet cycle route with give way lines, making use of the no through traffic zone south of Matthews Lane. This will connect nicely to the new cycle lane on Matthews lane and onward cycle journeys, and is a key connector to Manor road also (via Caremine Avenue)
What needs tweaking
Due to the completeness of filtering here, not many tweaks are needed, please get in contact if you can see any tweaks we missed
What is missing?
It's unclear how cyclists are meant to easily access Balleratt Street from the west side of the A6, either make Barlow road more cycle-friendly by removing parking one one side, at least up to Firsby Street, or reclaim A6 parking and make a wide pavement/cycle lane to join Balleratt street after the A6 Toucan junction, rather than the busier Barlow Road.